Unit:
 Jesus was Born
Session Titles: Angels Spoke to Mary and Joseph AND Mary Visited Elizabeth
Life Point: Angels told that Jesus would be born; God sent Jesus to Earth in Human form
Unit Bible Verse: "The virgin will conceive, have a son, and name him Immanuel." Isaiah 7:14
Weekly Bible Verses: "For nothing will be impossible with God." Luke 1:37; "The virgin will conceive, have a son, and name him Immanuel." Isaiah 7:14
Bible Passage: Luke 1:26-38; Matthew 1:18-24; Luke 39-56
Extras from LifeWay (GREAT Ideas Here): http://blog.lifeway.com/biblestudiesforlife/leaderextras/by-age-group/
Craft: Angel Ornament
This is actually in the 3rd and 4th grade material but here it is for other classes as well.
http://craftyjournal.com/easy-paperclip-angel-ornament/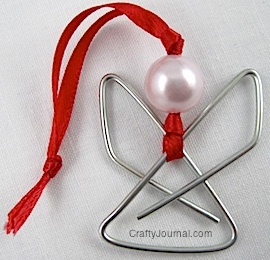 Craft: Paper (Coffee Filter Angel)
Ornament made from a coffee filter, we may have some filters if you request from Tricia. You can replace the foam ball with a wood ball. All the instructions are on the website below.
http://www.thepinjunkie.com/2013/11/angel-ornament.html
Craft: Doily Angel
This could be an ornament or just a standing decoration for a table.
 http://www.funezcrafts.com/Easy-Angel-Crafts-Doily-Paper-Angel.html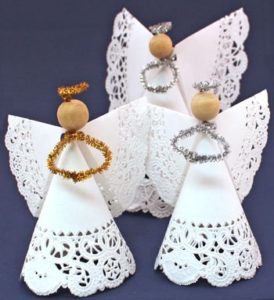 Snack/Craft: Hersey Kisses Angel
This is a cute snack/craft for kids to make for themselves or to give to others.
http://www.freefunchristmas.com/handmade-christmas-gifts/hersheys-kisses-angels-craft-2/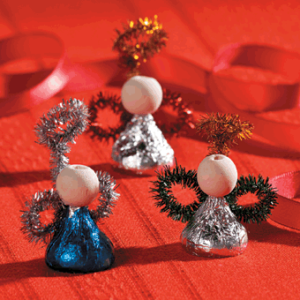 Craft: Handprint Angel
This would be so cute for the younger kids to do. 
https://i.pinimg.com/originals/a0/8e/6a/a08e6a6b955d888ccb9e729f8626e4e8.jpg
Craft: Keeping Mum (2nd-5th)
In English the phrase 'keeping mum' means to not say, to keep the secret. In this game you need to try to describe a bible character without mentioning their name (make it harder – you can't refer directly to them either) Eg Peter – those people who hung out with Jesus all the time, a crow making 3 lots of noise, Prisoners released by an Angel…
http://www.jesus-without-language.net/elizabeth-mary-luke-1-play/
Craft: Praise Shakers
Children will make shakers so they can praise the Lord with joyful noise. You can make the shakers with cups or plates and then put beans inside. Sing Joy to World or other Christmas carols while they make music with their shakers.
Children's Christmas Prayer
Give children a copy of this prayer or have them make cards with it.
Gentle Jesus born this day
In a manger filled with hay.
We your Christmas children be-
Help us now your love to see.
Gentle Jesus, come today
Be our shepherd, Lord we pray.
Gentle Jesus, come this hour
Fill us with your love and power.
You fell asleep in Mary's arm
God kept you safe from all alarm.
Gentle Jesus, come today
Be our Shepherd now we pray. 
http://childrensministry.com/articles/childrens-christmas-prayer
Craft: Praise Parade Acrostic
The children will complete an acrostic on the word PARADE with a word representing something that we should praise God for. (For example: P=parents; A=adults; R=rain; A=animals; D=doctors; E=electricity.
http://www.sermons4kids.com/praise_parade_group_activities.htm
Craft: Christmas Praise Poster
Make Posters that have phrase that praise Jesus during this season. 
Examples are:
Jesus is the Reason for the Season!
Joy to World! The Lord Has Come!
A Savior is Born!
Oh Come Let us Adore Him!
Happy Birthday Jesus!
Glory to God in the Highest!
http://happyhomefairy.com/2011/12/06/a-christmas-praise-poster/