Unit: God Helps People
Session Titles: Joseph Interpreted Dreams
Life Point: People can trust God even when things are bad
Unit Bible Verse: "I know the plans I have for you… to give you a future and a hope." Jeremiah 29:11
Weekly Bible Verses: "Trust in the Lord with all your heart, and do not rely on your own understanding." Proverbs 3:5
Bible Passage: Genesis 40-41:36
Extras from LifeWay (GREAT Ideas Here): http://blog.lifeway.com/biblestudiesforlife/leaderextras/by-age-group/
Craft: The Baker
Make a baker out of a paper bag to remind the children of the story this week. This craft would be better for younger kids but is a little involved so more like 2nd and 3rd grade.
http://www.sundayschoolcrafts.net/josephs-butler-and-baker-dreams-craft.php
Craft: Bubble Wrap Sheep
This is a cute craft to make a sheep to go with the memory verse. You could make the sheep like the website says and then either write the memory verse on the back or maybe put a magnet on the back.
http://www.craftymorning.com/bubble-wrap-sheep-craft-kids/
Game: Out of the Pit (Jail)
The instructions are on the JPG below. I would suggest if you have a bigger class have two of this game going at the same time. Also be very careful with how high the pit/jail gets.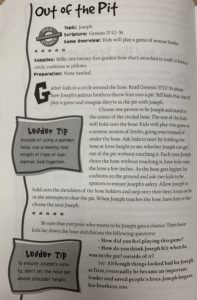 Source: The Humongous book of games for Children's Ministry