Session Titles: Jesus Gave Thanks for Food
Life Point: People can thank God for things that He gives them
Unit Bible Verse: "Everything you pray and ask for – believe that you received it and it will be yours." Mark 11:24
Weekly Bible Verses: "Give thanks to the Lord, for he is good; his faithful love endures forever." Psalm 107:1
Bible Passage: John 6:1-13
Extras from LifeWay (GREAT Ideas Here): http://blog.lifeway.com/biblestudiesforlife/leaderextras/by-age-group/
Craft: Thankful Sunflower
I did this craft last year and it was a hit!!! Basically what I did was have the petals drawn on pieces of yellow paper, give each child two and have them write things or people they are thankful for. Then they will cut out the petals. They will glue them on to a paper plate. Then you can have circles for the middle and they can glue sunflower seeds down. And then last is the green Popsicle stick for the stem. You will want to do this at the beginning of class so they have time to dry before the end of class.
http://www.parents.com/holiday/thanksgiving/crafts/adorable-thankful-crafts/?page=18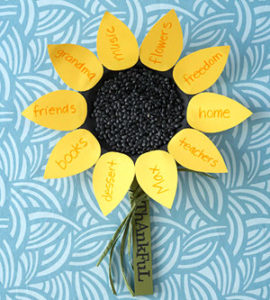 Game: Thankful Scattergories Game (3rd-5th)
Play a game of Thankful Scattergories.
Step #1 – Take a sheet of paper, list the alphabet in two rows as seen in the picture to the left of this. Make enough copies for each guest to have one
Step #2 – Ask each student to fill in the sheet using each  letter to describe something they are thankful for.
Step #3 – Go around the room or table and share what each person wrote for each letter. If anyone has the same answer as another person , cross it off, and the person with the highest number of NOT crossed off items WINS .  Add a little more fun with prizes for the winners.  We found this fun game idea  on http://247moms.com/2013/11/thankful-scattergories-game/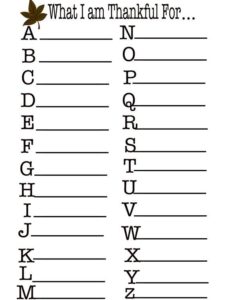 Mother's Day: Love you because flowers
This is a cute craft for kids to do for their mother. The site says to use foam flowers but you could definitely do this craft with construction paper as well and it may be easier because you can use regular markers.
http://www.jadelouisedesigns.com/i-love-you-because-mothers-day-craft/?_nospa=true#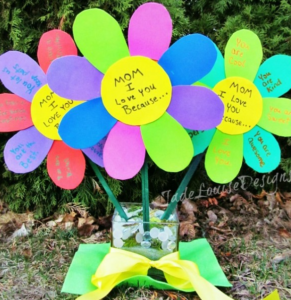 Mother's Day: I love you with a cherry on top
Cute craft that has the kids think of adjectives to describe their moms. Could be made into a card but the example on the site is more poster like.
http://www.mrsliretteslearningdetectives.com/2012/05/mothers-day-crafts.html
Here is a site to a lot of mother's day card ideas, which are very cute and easy to do as well.
http://www.craftymorning.com/easy-meaningful-mothers-day-crafts-kids-make/
Mother's Day: Fingerprint Flower Pots
The instructions are on the site below. This would be an easy craft to do with any age. You will need to buy the flower pots for this.
http://www.momalwaysfindsout.com/thumbprint-art/#_a5y_p=5267104